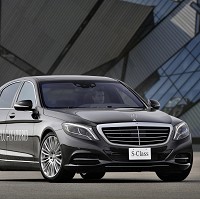 There is no car women prefer to drive than the luxurious Mercedes S-Class, according to a panel of female motoring writers.
The Merc overcame Audi's A8 by the narrowest of margins - 0.1 point - and Honda's Jazz model to land best motor at Women's World Car of the Year awards.
Women buying a car might also be wise to consider an F-Type Coupe from Jaguar, the awards suggest. This is because it was named the motor that the judges would most like to own. They were taken by the Jag's distinctive on-road presence and elegant lines.
The awards saw top-end luxury as well as fuel-efficient smaller vehicles fare well, with three other sections also being decided by the tightest of margins.
Awards founder, Sandy Myhre, said all the triumphant motor firms can be proud of winning as it is so difficult to get even shortlisted for these gongs.
Copyright Press Association 2014