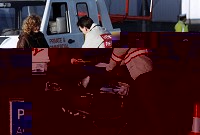 Men are behind the wheel in most cases when women are killed in accidents, road safety chiefs have warned.
Women in Ireland are being urged not to get into cars with irresponsible men as part of a move to stop boy racers and drink-drivers causing road deaths.
He Drives, She Dies is a new hard-hitting Road Safety Authority (RSA) of Ireland campaign which aims to strip male drivers of their desire to act reckless behind the wheel.
Noel Brett, RSA chief executive, said the facts show in 80% of fatal road crashes in Ireland, men are the drivers.
He added: "At the risk of offending male sensitivities, women need to know that they are being killed through male-dominated driver errors such as speeding and drink-driving."
More than two-thirds (67%) of female passengers killed in the 10 years between 1998 to 2007 were being driven by a male driver, RSA figures show.
Copyright © Press Association 2009