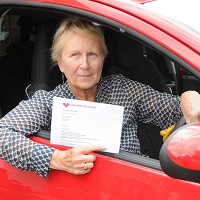 A woman claims the £70 fine she received after stopping for mere seconds outside a school is "ludicrous".
Joyce Sale stopped on zig-zag road markings at St Benedict's Infant School for all of seven seconds, but that was long enough to be spotted by a Birmingham City Council camera car.
Thankfully Mrs Sale won't have to find the cash because a charity she was working for has stepped in.
She was leaving leaflets about a charity concert at the Small Heath primary school on behalf of Birmingham St George's Day Association.
It has said it will cover the £10-a-second cost, but thinks the council should waive it under the circumstances.
Mrs Sale appealed against the penalty after getting her fine through the post but the council rejected it, saying the safety measures around schools are "important".
A council spokesman says the appeals process has been followed properly and the fine upheld.
The 71-year-old ex-carer also works with Troop Aid on a voluntary basis and helps look after people with Alzheimer's. She says the school gates were shut and she stopped on February 12 to find out how to access the grounds.
But stopping is not allowed at any time - and the zig-zags also boast "keep clear" instructions - so seven seconds was enough to earn a fine.
Copyright Press Association 2014