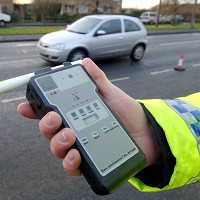 A woman stopped by police was found to be eight times over the drink-drive limit, it has emerged.
Tests showed that the 36-year-old, who was apprehended by police in Redcar, had 275mg of alcohol per 100ml of breath. The legal limit is 35.
Details of the incident last September were revealed following a Freedom of Information request, but the circumstances surrounding why the woman was stopped are unclear.
Ed Turner, temporary chief inspector of Cleveland and Durham Specialist Operations Unit, said: "I am shocked and astounded by the high level of that reading. However, that is quite a unique and isolated example. I am delighted we managed to capture and prosecute that person."
Mr Turner said the majority of motorists recognise the dangers of drink-driving on a night out, but a large proportion are not aware alcohol may still be in their system the following morning.
"You really need to be careful and allow the time for the drink to get out of your system before driving," he added.
Copyright Press Association 2013