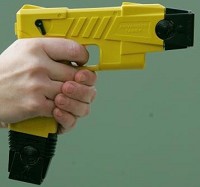 A 72-year-old woman in Texas, US, was "tasered" by a traffic policeman after she refused to sign a speeding ticket and dared him to shoot her with the electric stun gun.
The dashboard camera in the police car captured Kathryn Winkfein, who was stopped for clocking 60 mph in a 45 mph zone, refusing to sign the ticket and angrily questioning the policeman: "You're gonna shove a 72-year-old woman?"
The video footage also showed the officer saying: "If you don't step back, you're going to get Tased," and the old woman replying "Go ahead, Tase me. I dare you."
When hit by the electric stun gun she moaned and dropped to the ground in pain.
Travis County Sheriff Greg Hamilton said: "I do not personally agree with the actions of the deputy constable as they are shown in the video. When I look at the video I am in awe of what happened."
However, Deputy constable Chris Bieze's actions have been defended by senior police officers who said Mrs Winkfein was "belligerent and difficult to handle". She was later charged with resisting arrest.
Copyright © Press Association 2009