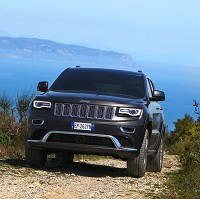 Concerns that air bag mechanisms could stop working have prompted Chrysler to recall over 184,000 sports utility vehicles (SUV) around the world.
The US motor manufacturer is bringing back 184,215 of the models. It says their seatbelt and air bag mechanisms could become disabled due to a wiring glitch.
The company is urging drivers of this year's Jeep Grand Cherokee and Dodge Durango models to head for their nearest approved Chrysler dealer. Here, they will get the SUV's restraint control modules replaced free of charge.
Warning lamps for its air bags could light up due to these modules short circuiting, says Chrysler. This could cause seatbelt pretensioners - which tighten belts in a shunt to keep passengers in place - and air bags to malfunction.
The firm does not know of anyone being harmed because of the glitch.
The US has over two-thirds of these models, while 57,443 are in Mexico, Canada and elsewhere.
Ford last month recalled 850,000 motors for a similar reason.
Copyright Press Association 2014