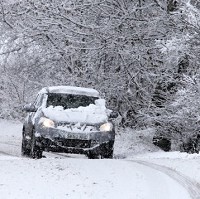 Fresh snowfall and bitter winds from the Arctic have been tipped to cause havoc in parts of Scotland and northern England as Britain braces itself for another cold snap.
Up to five centimetres of snow is expected to fall on higher ground in Scotland and northern parts of England on Wednesday, while two centimetres could fall on lower ground.
Motorists have been advised to take extra care if travelling over the North Yorkshire Moors, with wintry weather causing hazardous driving conditions that could result in a car insurance claim.
Forecasters also warned of 50mph winds affecting coastal areas in England, Wales and Scotland as polar gusts prepare to send temperatures plummeting below freezing.
Matt Dobson, a forecaster for MeteoGroup, the weather division of the Press Association, said: "The worst of the snow storms will hit the north east of England from Northumberland down to Norfolk, and will be heavier over higher ground in places like the North Yorkshire Moors and Lincolnshire Wolds.
"While temperatures will be around two to five degrees in the North and around four to seven degrees in the South, they will actually feel up to eight degrees colder because of the winds.
Copyright Press Association 2013