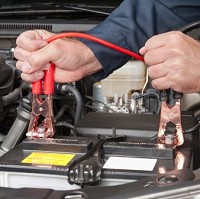 More than three million motorists will risk being stranded out on the roads this winter because of a flat battery, according to a new study.
Kwik Fit has discovered just 4.1 million of the 7.5 million drivers known to have suffered car battery problems in the last year actually had them replaced - meaning as many as a tenth of UK motorists are heading into the winter with batteries that could fail them when they need them the most.
Also at risk are the 44% of car owners, around 14.7 million, who have never had their batteries checked by a mechanic.
Just under a quarter (24%) of all drivers and 49% of those aged between 18 and 24 do not know how old their battery is, the poll reveals.
RAC spokesman Simon Williams said: "Flat batteries are the single largest cause of breakdowns in the UK, accounting for one in every six call-outs made to the RAC throughout the year, and almost a quarter during some winter months. Last year alone, the RAC attended over 445,000 battery-related call-outs; an average of over 1,200 each day.
"Cold temperatures affect the chemical process inside the battery that produces and stores electricity, effectively slowing it down and reducing the battery's ability to hold the charge. Older, weaker batteries will typically already have reduced performance and cold temperatures will often drastically reduce this further, to the point where the battery will discharge or go flat very quickly."
"Remember, if your car has not been used for a period of time, the battery may need charging before you come to use it. The RAC Shop stocks a range of battery chargers and battery testing devices."
Kwik Fit director of communications, Roger Griggs, said the strength of a car battery depends on how much it is in use and ever-increasing amounts of in-car technologies, such as entertainment systems and air conditioning inevitably take their toll.
Copyright Press Association 2013