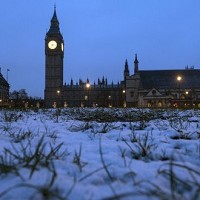 Drivers are warned to expect yet more wintry conditions on roads across the UK for the next few days.
Met Office weather forecasters say an icy blast of cold air is sweeping in from Scandinavia and central Europe.
And they're warning that with temperatures plunging to 2C - feeling more like minus 4C when the wind-chill is factored in - any showers on Thursday and Friday will fall as snow.
Forecaster Simon Partridge expects up to 3cm of snow to fall in parts of Britain on Thursday.
Snow has already been falling in some parts of the country - including London - with a few schools reporting they have had to close to pupils.
The lowest temperatures, though, have been recorded in areas that have had clearer skies. People in Dalwhinnie in the Scottish Highlands and Katesbridge in County Down, Northern Ireland, have experienced drops to minus 11C and minus 8C respectively.
Copyright Press Association 2015