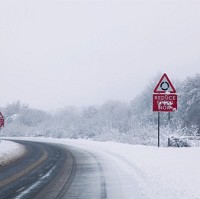 Britain's motorists have been coping with yet another colder than average winter, new official figures show.
Met Office statistics have revealed that this winter has been 0.4C colder than average with a mean temperature of 3.3C. That means UK drivers have had to deal with more wintry conditions on the roads than usual for four out of the last five winters, makingcar breakdown cover a sound investment over recent years. The only respite from the chilly trend during recent winters came in 2011/12 when average temperatures hit 4.6C.
A Met Office news blog said this winter had highlighted how varied British winters could be with a wet and mild December followed by January's snow and a cold, dry February.
Met Office forecaster Mark Seltzer said although the cold weather would continue for the first few days of March, temperatures would slowly move nearer to average for the time of year. He added: "It's looking like it will be getting more stable, particularly in the second half of next week."
Copyright Press Association 2013