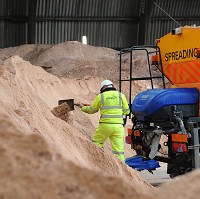 A new winter road safety campaign is targeting drivers who use the hard shoulder to undertake gritters.
Highways England warns there is a growing problem of road users veering on to the hard shoulder to avoid being struck by salt.
This could result in a collision with a stationary vehicle or cause a hazard when gritters try to come off at junctions, the government body says.
When gritters are spreading salt on a three-lane motorway, they normally travel at 40mph in the middle lane, treating the lane they are in and one lane on either side.
Motorists are being advised to only pass a gritter when it is safe to do so, avoiding using the hard shoulder and checking for hazards ahead.
The campaign, which is being rolled out in the West Midlands, was launched at Highways England's Coleshill depot in Birmingham.
Transport Minister Andrew Jones, who visited the site to learn more about its winter operations, says transport is critical to the success of the economy, so it is vital that the network can cope with winter weather. He adds that Highways England "will be working around the clock" to keep major roads clear.
On average, 16 people are killed every year because of collisions on hard shoulders or in lay-bys across England, while 45 are seriously injured.
Drivers are being urged not to take unnecessary risks this winter to help keep motorways and major A roads flowing freely.
More than 35,000 tonnes of salt are being stored at 14 depots across the West Midlands, which is enough to cover more than 78,000 miles of motorway.
A total of 61 gritters are on standby to start spreading salt when temperatures are forecast to dip below freezing, and salt supplies will be topped up throughout the winter.
As well as not undertaking gritters, motorists are also being asked to prepare for winter driving properly, making sure they have a winter kit in their vehicles, including an ice scraper, de-icer, warm clothes, blankets and sunglasses to cope with the low winter sun.
Copyright Press Association 2015