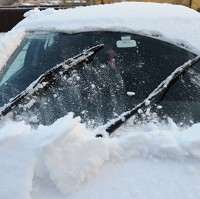 The windscreen wiper looks set to be consigned to the dustbin of history.
The rubber wipers smear flies across motorists' view and freeze up in winter, and supercar designer McLaren is developing secret plans for a replacement hi-tech ultrasound device that prevents anything sticking to the windscreen.
The invention is adapted from a comparable system seen on military aircraft.
The planned design is believed to revolve around high-frequency sound wave technology. This effectively generates a forcefield across the windscreen stopping water, insects and mud from resting on the glass.
It would create small vibrations beyond the field of human hearing that shake off any debris that comes near.
McLaren is keeping the design secretive, according to the Sunday Times, but thinks it could enhance vehicle efficiency by taking away the weight of wiper motors.
The system could be launched in McLaren's stable of cars, which cost from about £170,000 to £870,000, by 2015.
If a success, it is expected to be quickly adopted by mass-produced cars.
McLaren chief designer, Frank Stephenson, told the newspaper that windscreen wiper technology is "archaic".
Copyright © Press Association 2013