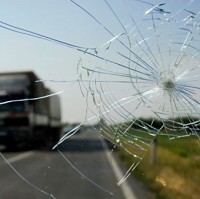 A van driver and two passengers had a rock thrown at their windscreen as they drove through a city in Scotland last week.
The windscreen received damage but no injuries were reported, while police believe the result of the attack "could have been much more severe".
The incident took place in Dundee's North Marketgait at about 6.30pm when two male youths were spotted launching a rock from a ledge overlooking a tunnel.
The pair were described as young teenagers with brown hair. Both were wearing grey trousers, one with a blue hooded sweatshirt, and the other with a black hooded sweatshirt.
While victims of vandalism will understandably be distressed, they may find that any windscreen damage can be quickly repaired under their car insurance .
A police spokesperson said: "The three occupants of the vehicle were shaken but uninjured. The potential consequences could have been much more severe and any person with any information regarding this incident is requested to contact police."
Copyright Press Association 2012