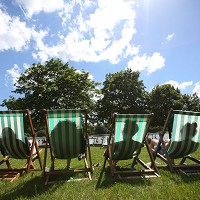 Drivers planning to travel to Wimbledon, Glastonbury or simply just to get away for a bit next week will be pleased to hear that glorious summer sunshine is predicted.
The Met Office said temperatures in London will reach up to 23C (73.4F) on Monday, and will stay at that level throughout the week.
Those with tickets for Glastonbury can also expect to revel in the sun as the experts believe the dry spell is set to continue over the weekend.
Laura Young, a spokeswoman for the Met Office, said there may be some cloud in London on Monday, but it will be a warm and dry day with "very, very little" chance of rain.
She added that the rain should stay away from Glastonbury as well - at least during the first half of the weekend.
However, revellers are being urged to bring along their wellies anyway as conditions "might turn more changeable" in the later stages of the festival.
Copyright Press Association 2014