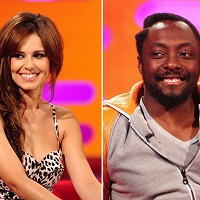 Pop stars Will.i.am and Cheryl Cole were slightly injured in a minor car accident in Los Angeles, which left them both suffering from whiplash.
American Will.i.am was driving a Cadillac and the British singer Cole was a passenger in the front seat. The pair had just left a Los Angeles studio where they had been recording new music together.
Reports suggest the collision was with a parked car and the impact of the crash caused the driver's airbag to inflate.
Will.iam is said to have suffered a nosebleed as a result and underwent a full check-up at nearby hospital Cedars-Sinai.
According to sources, Cole's airbag did not inflate but she was treated at the scene and did not require hospital treatment.
The celebrity friends took to twitter to reassure fans they were not hurt.
Will.i.am said: "We're fine. Cheryl Cole (and I) were coming back from the studio but she and I are fine ... just a little wiplash."
Meanwhile, Cole tweeted: "Don't worry me and @iamwill are fine, promise x"
Copyright Press Association 2012