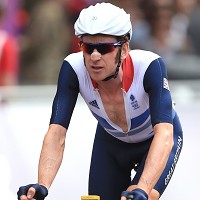 Bradley Wiggins, the Tour de France and Olympic champion, has suffered a number of broken bones after being knocked off his bike by a car.
The 32 year-old was hit by a white Vauxhall Astra as it was leaving a petrol station. The accident occurred at approximately 6pm last night and collision investigators have examined the scene.
A local woman was driving the vehicle and was said to be uninjured after the crash. Initially Wiggins's injuries were thought to be severe but after an examination at a nearby hospital he was found to have broken ribs and a number of cuts and bruises.
A spokesman for Lancashire Police said: "Police were called to the scene of a road traffic accident at Crow Orchard Road in Wrightington at about 6pm this evening. The rider of the bike, a 32-year-old local man, was taken to hospital by ambulance with injuries not thought to be life-threatening."
Police staff were immediately in contact with his family to let them know what had happened. Wiggins, a father-of-two, regularly trains in the Wrightington area of Lancashire, which is close to his home in Ecclestone.
Copyright Press Association 2012