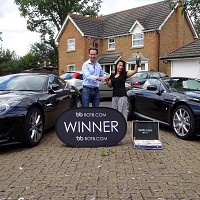 A lucky couple is driving around in not one, but two luxury sports cars, having won a competition twice in the space of six months.
Steve McLoughlin could not believe his luck when he won a £60,000 Jaguar F-Type in January.
But his wife, Rian, has top trumped him after she was handed the keys to a £94,000 Aston Martin V8 Vantage.
Both also received a £10,000 cash prize - hidden in the boot - through the Best of the Best competition.
Rian was at home in Reading waiting for someone to come and fix the television when the black Vantage pulled up outside.
Out hopped Will Hindmarch, founder of the company, to give her the good news.
While all this was going on, husband Steve was hundreds of miles away in Lagos on a business trip. He was shocked to hear that they had won again, especially so soon after their first triumph.
They are the first husband and wife winners in the history of the competition.
Rian jumped straight into the Aston Martin to rev up the V8 engine.
Best of the Best gives away a dream car every week.
Other cars waiting to be won include a Range Rover Sport, Range Rover Evoque, BMW M3, BMW M4, Nissan GTR, Alfa Romeo 4C and MINI Cooper S.
Copyright Press Association 2015
https://www.botb.com/ (Best of the Best )