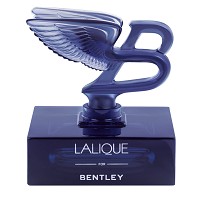 Those who always cast their eyes enviously towards a Bentley will now be able to pick one up for just £3,500.
But the cheaper version has no steering wheel, engine, tyres, needs no car insurance and comes in a blue crystal fragrance bottle.
The limited edition man-fume - of which just 499 bottles are being produced - is said to be "woody", "spicy", "charismatic" and "invigorating", and contains fresh pear, juniper berries and pink peppercorns.
The Crewe-based luxury car manufacturer, a subsidiary of the German car maker Volkswagen AG, says that the Lalique for Bentley Blue Crystal Edition is crafted purely from the finest natural essences.
The scent will be for sale at selected retailers.
If the £3,500 price tag is out of some Bentley fans' range, then a race track test drive in one of it Continental GTs can be sampled throughout Britain for a lot less than £100.
Copyright Press Association 2014