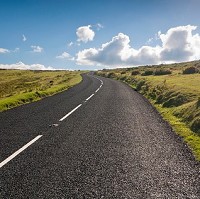 Pilot schemes aimed at slowing down motorists could result in the end of the road for some central white line markings, it is being suggested.
The Times is reporting that highways chiefs in Norfolk are planning a "shared space" scheme that could include the removal of central markings on narrower roads close to Sandringham.
The idea is that roads free of markings cause uncertainty among drivers, resulting in them easing off the accelerator.
The move has been welcomed by the Roadpeace charity. It says with police budgets being reduced, self-enforcing schemes that leave motorists, cyclists and pedestrians to take the lead are needed to help cut speeds.
Similar trials have already been implemented in London, Derby and Wiltshire, with research suggesting that roads free of central markings can cut average speed by 13%.
Transport for London (TfL) says motorists cut their speed by between 5.4mph and 8.6mph when central white lines were removed for a trial in South London.
TfL says the findings were "statistically significant" while a 2002 Dutch study concluded that such schemes can work.
RAC public affairs manager Nicholas Lyes said: "There may be some areas where there's a benefit but a lot where the disadvantages outweigh any potential benefits. And their removal would also likely lead to an increased 'fear factor' of driving and accidents for the majority of motorists who take confidence from clear road markings.
"We are also seeing the incorporation of 'lane assist' technology in modern vehicles reliant on the white lines to trigger an alert warning the driver that they are straying out of lane. The same technology is also being used in prototype driverless cars so it seems counter-intuitive to remove white lines from major main roads and motorways.
"It could be seen as a cynical attempt at road safety on the cheap and there will be some that are keen to suggest it is a cost saving, albeit a small one in the overall cost of road maintenance.
"It feels instinctive that white line road markings an essential feature keeping our roads safe and lanes clearly defined in both daylight and the hours of darkness. And we must not forget the development of cat's eyes in the 1930s has been universally heralded as one of the greatest road safety improvements of all time used all over the world. The reflective glass spheres are a familiar and valuable sight for drivers reassuring them that they are travelling safely in their own lane in the hours of darkness."
Copyright Press Association 2016. Motoring News articles do not reflect the RAC's views unless clearly stated.