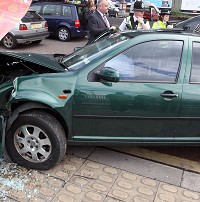 Whiplash injury claims are increasing despite a fall in road accident injury figures from the police.
The Institute and Faculty of Actuaries blamed the increase, which has cost the insurance industry an estimated £400 million, partly on claims management companies.
An increase in such injury claims could be bad news for motorists keen to obtain the bestcar insurance premium deals.
The chartered international professional body for actuaries produced its third annual study collating and analysing data from the motor insurance industry for last year, showing a marked difference between police data for road accident injuries since 2006 and the amount of injury claims received by insurers.
The worst area for third party injury claims is Birmingham with 11 of the 20 worst districts in this respect, said the report.
The average cost of a UK motor insurance policy is dropping despite the rise in claims costing the industry so much, said group chairman David Brown, adding: "This is good news for the consumer, but it does raise the question of how sustainable this is for insurers."
Copyright Press Association 2012