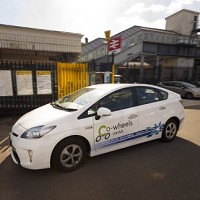 Details of Toyota's new Prius have been revealed.
The Japanese giant officially unveils the hybrid pioneer at next week's Frankfurt Motor Show, but those thinking of buying a car from its eco-friendly range can already have a sneak preview of its features months before it hits showrooms early next year.
Toyota, without over-elaborating, claims the fourth-gen model will set new fuel economy standards.
It will be the first to utilise the trailblazing Toyota New Global Architecture (TNGA) system, which is likely to feature in many future projects.
This revolutionary modular platform has enabled engineers to create a fresh hybrid "performance-sharpening" drivetrain from scratch, capable of 70g/km and 90mpg CO2 emissions and economy respectively.
Its more receptive CVT gearbox promises the delivery of improved motorway economy.
The Prius Mk IV will retain its 1.8-litre motor with a different electric power component for its rear wheels and a reduced electric motor. This "e-4WD" system, which works exclusively below speeds of 37mph, enhances grip in bad weather.
The new Prius also boasts better charging times from its more compact hybrid battery made from nickel-metal. Boot capacity is also being increased.
Its look is also changing. It will be more aerodynamic with delicate bootlip spoiler and blacked-out C-pillar. Narrowed vertical tail lights and large swept-back headlamps are also new modifications.
The Prius price range should start from about £25,000.
Copyright Press Association 2015