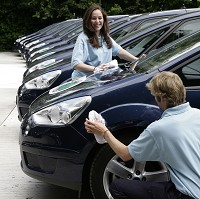 Many motorists are making the mistake of being more concerned about the external appearance of their car than its mechanical wellbeing, according to Kwik Fit.
A whopping £1.9 billion will be spent on keeping cars looking shiny this year, with 78% of drivers forking out an average of £73 on cleaning their car. Yet 39% will not bother taking care of what's under the bonnet.
Finance plays a part in drivers neglecting a service or maintenance checks, with 24% saying they can't afford them due to other motoring costs such as insurance and breakdown cover , while 8% believe they don't have to service their cars as often as the manufacturer recommends.
Drivers who spend the most on car cleaning are also the most likely to skip mechanical maintenance. Of the 2.8 million drivers who will pay for at least five different car cleaning products or services, half are considering missing their next service, with 29% blaming financial constraints.
Younger motorists are the most likely to be bothered about their car's appearance, with 20% of 18 to 24-year-olds visiting a drive through carwash at least 10 times this year.
Roger Griggs, communications director at Kwik Fit, said: "We don't want people to neglect their vehicle's appearance, and keeping a car clean can improve safety - but for some drivers to prioritise surface shine over the mechanical components is somewhat worrying."
Copyright Press Association 2013