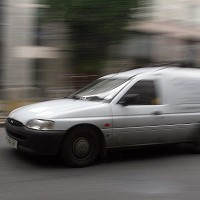 The classic white van man is the most aggravating driver on Britain's roads, according to new research from Motors.co.uk.
Nearly half (45%) of the 2,300 UK respondents surveyed cited white van drivers to be the most annoying, with the stereotypical mum on the school run in her 4x4 coming a close second (42%).
The 'Emotional Response to Driving' study from the car website, which appointed YouGov to conduct the poll, also found drivers of expensive cars to be another pet hate of British motorists.
A total of 27% revealed that BMWs annoyed them, while 19% said the same of Range Rovers.
However, drivers of Fiats, Renaults and Toyotas were revealed to be the most 'likeable' motorists at the opposite end of the spectrum.
Some of the biggest irritations listed by UK drivers were people cutting them up (54%) and slow driving (30%).
Other causes of road rage include taxi drivers (34%), OAPs (32%) and cyclists (32%).
More unusual triggers to get drivers' blood boiling are Baby on Board stickers (5%), hearing politicians on the radio (4%) and having to slow down for lollipop ladies and children (2%).
One thing that can help reduce stress on the roads and give you peace of mind is making sure you are covered by adequate car insurance .
Copyright Press Association 2012