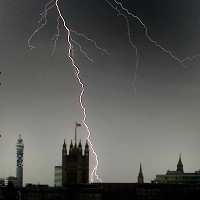 Heavy rain and thunder over the next few days are expected to bring one of Britain's soggiest years on record to a close.
Wet weather and storms are forecast over the weekend with the north of England and southern England expected to have seen a few centimetres of snowfall. Up to 5cm of rain and wind reaching speeds of up to 90mph have been forecast in some places from a storm which will travel over from the Atlantic Ocean.
And Britain is expected to suffer from storms for the rest of 2012. With bad weather making driving conditions hazardous, good car insurance cover is essential for motorists.
The rain will also see the problems continue for the south-west, which has already fallen victim to severe floods. And a severe weather warning from the Met Office still remains for the region.
A forecaster for MeteoGroup, the Press Association's weather division, said the weekend may see some spells of sunshine and clear skies but most of the country would be gripped by storms with wind speeds of up to 50mph expected in the north and west and up to 90mph along the western Scottish coastline.
Copyright Press Association 2012