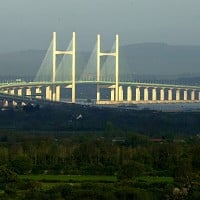 Toll prices would come down if the Welsh Assembly was given control of the Severn Bridges, according to First Minister Carwyn Jones.
The Welsh Labour leader and former barrister wants to strike a fair deal for Wales over the two bridges so not all of the profits are received by the UK government.
Mr Jones said he wanted a "decent deal" for Welsh drivers. The breakdown of his argument is that Welsh motorists are paying London for the right to travel in and out of their own country but actually handing over their money at toll booths in Wales.
He said that it was not right that all the proceeds from the tolls are being be spent on the roads in England and not those in Wales.
He added that it was not possible to make the bridge free to cross for drivers as that would leave a big gap in the Welsh budget, but he thinks there is flexibility to reduce the tolls and use any profits made on M4 upgrades.
Copyright Press Association 2013