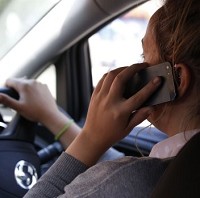 Mobile phone-using motorists are being targeted in Wales.
Welsh police launched the fortnight-long initiative last Thursday and it ends a week on Wednesday.
Offenders face a fine of £100, as well as three driving licence points and probable car insurance premium increases.
Welsh officers hope the campaign, which caught over 900 motorists last year, will help reduce the amount of accidents leading to injuries.
They are urging drivers to avoid visiting websites, reading texts, answering their mobile and using other distracting gadgets.
The 2014 campaign saw 447 fines issued by Dyfed-Powys Police, 342 by South Wales, 72 by Gwent and 53 by North Wales.
Last month a poll by Continental Tyres showed that several drivers do not let vehicles out at junctions if they glimpse their owners using mobile phones .
The following week a separate poll from Brake road safety charity found that drivers aged between 17 and 24 years are the worst mobile phone abusers .
It revealed that nearly half (49%) of them use their mobile phones to illegally make or take work calls while driving.
Copyright Press Association 2015