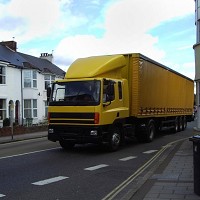 Local council leaders are calling for greater powers to police lorry weight restriction bans in villages.
The Local Government Association's (LGA) call follows a recent series of accidents involving HGVs in small rural settlements.
It said that some lorry drivers are setting their journey planners to travel through villages, regardless of whether a weight restriction ban is in force or not.
This behaviour is "bringing bedlam" across such rural communities, the association claimed.
Police sometimes lack the manpower to enforce the restrictions outlawing HGVs of a stipulated width or weight from travelling along several minor roads.
The LGA would like to see powers already devolved to local councils in London and Wales extended to others, in the event of truck drivers ignoring the law to roll-out throughout the country.
The association cited three recent examples where accidents resulted from lorry drivers flouting the laws.
One trucker had to sleep inside his lorry for three evenings after a faulty sat-nav led him astray down a tight Ivybridge country lane near the Devon city of Plymouth.
A tractor eventually came to the stuck lorry driver's rescue.
Another trucker brought down power lines after ploughing into properties in Uffculme, the sleepy Devonian village, in the middle of the night. The driver reportedly misjudged a small street in his articulated lorry.
One Bulgarian HGV driver wrapped his truck into a tree in the Kent village of Iwade. A translator and a quartet of police officers were required to resolve the situation.
Peter Box, transport spokesman for the LGA, said measures should be taken straight away to prevent more such incidents from happening.
He said "irresponsible" lorry driving was helping to visit "bedlam" upon smaller countryside communities.
He said that local councils require tougher powers as soon as possible.
At the moment, they are attempting to act with their hands tied behind them, while doing everything in their power, the expert warned.
Lorry speed limits for vehicles over 7.5 tonnes, including their load, throughout Wales and England were raised to 50mph from 40mph on single carriageways in April.
The limit also jumped to 60mph from 50mph on dual carriageways. Road safety groups criticised the moves.
Copyright Press Association 2015