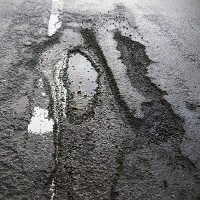 Drivers should make weekly tyre spot checks as they bid to steer clear of pothole-related problems.
Fresh advice from safety group TyreSafe comes as it reports a substantial jump in the amount of pothole-damaged tyres.
What several motorists mistakenly believe to be just a gradual puncture can turn out to be a immediately hazardous fault, including cracked wheels and tyres. A weekly DIY inspection could prevent these would-be deadly risks from happening.
The RAC reminds drivers they can minimise pothole-related risks by keeping their distance, remaining alert, checking their speed, and avoiding non-essential braking.
They should also look out for hidden potholes, grip their steering wheel in the correct "10-to-two" position and carefully motor over potholes.
In addition, motorists should recover any lost parts in a pothole accident, ensure that they are parked up safely before inspecting damage before getting it professionally looked at.
TyreSafe reminds that tyres can overheat when operating under their pressure guidelines, causing swift deflation, putting road users at risk. Such tyres can also result in higher petrol costs.
Chairman Stuart Jackson said motorists' failure to undertake regular tyre checks can lead to "catastrophic" repercussions.
Mr Jackson said it is key for tyres to be properly inflated to their recommended levels at all times or risk rapid failure.
Copyright Press Association 2015