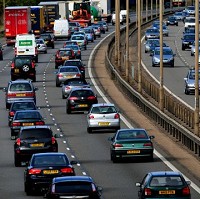 Friday and Saturday are expected to see the UK's major roads at their busiest, this bank holiday weekend.
Motoring organisations are expecting a particularly busy Friday rush hour, as people around the country head elsewhere for the long weekend.
RAC forecasts show that, despite forecasts of rain in some areas of the country, around two in five drivers could take to the roads - with a series of sporting events, air shows and music festivals likely to add to congestion.
A study by the RAC suggests that Saturday is likely to be the busiest period over the weekend, when about 3.5 million motorists will hit the road. The advice by the experts is to plan your journey and leave plenty of time to complete it during busy periods.
INRIX has highlighted some routes which it thinks will be particularly busy, including the M4 between London and Reading, where potential delays of up to 40 minutes are expected at the busiest times.
The M4 is also likely to pose similar problems for those travelling between Hampshire and the West Country, while unexpectedly, the M25's western stretch between junctions 7 and 21A could experience lengthy hold-ups.
According to the the Highways Agency, 180 miles of roadworks on England's motorway and major A-road network will be completed finished in time for the Friday rush, while another 145 miles of works will be suspended over the long weekend to allow for faster moving traffic.
But the Agency said certain sections of road works would have to remain in place for safety reasons. These include parts of the M1 in Northamptonshire, areas of the M40 in Oxfordshire near Bicester and the northbound carriageway of the M25 in Hertfordshire. There will also be works on part of the M5 near Gloucester.
Copyright Press Association 2014