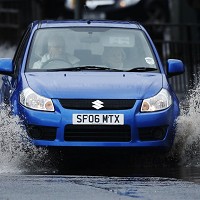 Drivers are being advised to prepare for flooded roads in certain parts of the UK this weekend.
According to forecasters at the Met Office a large summer storm on Saturday will follow what is expected to be the hottest day of 2014 so far on Friday.
The predicted 30C heat of Friday will give way to torrential rain, hail, lightning and strong winds on Saturday - with yellow alerts issued for the north of England, the Yorkshire and Humber region, the Midlands, the East of England, South East, South West, London and Wales.
The storms are expected start off in the south on Saturday morning and spread north during the day. There will be thunder and heavy downpours in places and large amounts of surface water and overflowing watercourses are likely to cause problems, the Met Office says.
It will be a dramatic change from the balmy conditions on Friday that are expected to see temperatures reach the thirties for the first time this year.
Sarah Rice, spokeswoman for the RAC, said: "The combination of downpours and strong winds can cause particular hazards for motorists, including driving through deep standing water, debris on the road and problems controlling a vehicle in exposed areas.
"It's vital that motorists take every precaution, plan journeys in advance and factor in extra time to allow for slower speeds. Also listening to local weather updates is key as a weather front such as this can be unpredictable.
"It is particularly important not to drive through deep standing water as this can cause very serious damage to a vehicle and be expensive to put right."
Copyright Press Association 2014