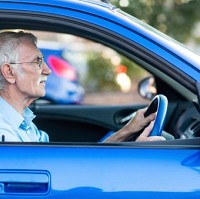 A new website has been launched to help older drivers stay safe on the roads.
Health and fitness often begins to decline in old age, affecting everything from eyesight to reaction times, so the Royal Society for the Prevention of Accidents (RoSPA) has published advice and information on how to best cope with physical changes and update driving skills.
The charity will help older drivers recognise whether their driving is changing, hammering home the importance of safety.
It will give tips on how they can update their driving skills and knowledge to maintain their freedom and independence on the road, such as by taking driver assessment or refresher training courses, as well as plan for the need to change when and where they drive, and if it becomes necessary, to retire from driving.
Kevin Clinton, RoSPA's head of road safety, says t he aim is to help older people continue to drive for as long as they are safe to do so.
Families or friends who are concerned about a loved one's driving can also seek advice through the website.
The law about health conditions and driving and how to renew a driving licence in old age will be covered by the RoSPA.
Copyright Press Association 2016. Motoring News articles do not reflect the RAC's views unless clearly stated.