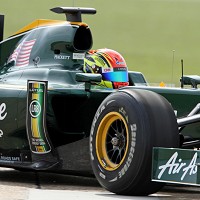 Fans of online computer games who share a passion for motorsport have been offered the chance to compete for a one-off prize, according to reports.
Lubricant oil firm Mobil 1, which supplies both the McLaren Mercedes Formula One team and the Stewart-Haas NASCAR team, is offering people who score highest in an online racing game the chance to have their name printed along the side of a car belonging to one of the sponsored teams.
The game, which can be found at www.grid1.tv, is a 3D racing simulator which puts players in the shoes of either former world F1 champion Lewis Hamilton or three-time NASCAR winner Tony Stewart.
Every month, the online drivers with the most points will be selected by Mobil 1 to have their name branded on either the sponsored NASCAR vehicle or at the American F1 race in Austin, Texas.
While gamers competing in the competition have nothing to fear by pushing their virtual vehicles to the limit, drivers are reminded that real roads should be treated with caution, and that car insurance is an important part of car ownership.
Copyright Press Association 2012