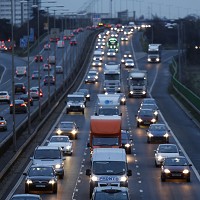 Forecasters are predicting heavy rain to come over Easter weekend as the current good weather trails off.
Mild temperatures are expected to continue until Good Friday before falling over the weekend, which could add to congestion over an already busy weekend.
"It will be more unsettled than this weekend," Andy Ratcliffe, MeteoGroup forecaster, said. "This weekend we've had high pressure influence the weather across much of the UK, but it is looking like pressure will be lower through next weekend."
High and low pressure systems coming into contact could lead to heavy rainfall over the Bank Holiday.
Trafficmaster has predicted significant congestion on the roads this weekend, although it is likely to peak on Thursday - expected to be the busiest day on the roads so far this year.
And RAC spokesman Simon Williams said: "We are expecting a busy Bank Holiday on the roads as millions will be heading away to enjoy the extended break, hopefully in the sunshine. If the good weather comes to an end on Easter Sunday as forecast that could force more people to travel home earlier than planned.
"Whatever happens the Bank Holiday Monday will almost certainly be a big day on the roads as people flood home en masse. And this could be made all the worse by the fact many schools are due back on Tuesday."
Copyright Press Association 2014