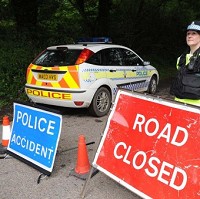 Motorists in Watford are more likely to have an accident than anywhere else in the country, according to research.
Analysis of data by the Institute of Advanced Motorists (IAM) shows that the towns of Chelmsford, St Albans, Enfield and Hemel Hempstead were also home to the most accidents in the UK.
People in Hull and East London made the fewestinsurance claims for accidents, while Llandrindod Wells in Wales, Truro in Cornwall and Falkirk in Scotland were also low down on the list.
The IAM research shows that the average claim for an 'an fault' accident is £3,025, with these types of claims representing half of all those registered.
Pete Harrison, director of policy at the IAM, said: "Being involved in a motor accident, however severe and whether you are at fault or not, can be a very traumatic and costly experience. Claiming for either an 'at fault' or 'not at fault' accident will have an impact on the cost of yourcar insurance premiums .
"Living in a commuter town like Watford or Hemel Hempstead will have an impact on the level of the car insurance premium you will pay. Heavily congested areas, particularly around key commuter routes such as Greater London mean statistically you are more likely to make a claim."
Copyright Press Association 2013