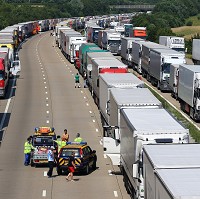 Coastguards are handing out food and water supplies to stranded lorry drivers on what is expected to be the hottest day of the year so far.
A strike by French ferry workers is continuing to cause disruption to cross-Channel services, with huge tailbacks on the M20 in Kent.
On Monday, MyFerryLink workers blockaded the Port of Calais for the second time in a week in protest at expected job cuts.
Kent Police have put Phase 3 of Operation Stack into force, where freight traffic is held on the coastbound carriageway of the motorway.
Dover Coastguard, which can be called upon to respond to major incidents when needed, is helping the police to distribute food and water to drivers travelling in the stiflingly hot weather .
Ferry services to and from Dover have been affected by the industrial action, while the Channel Tunnel was closed for three hours on Tuesday because of the protest.
Port of Dover officials admit they do not know when the strike action is likely to end.
They have issued an apology to the travelling public, freight companies and the local community for the ongoing disruption but say events are "beyond our control".
They have pledged to "monitor the situation closely" by working alongside their ferry partners and the Port of Calais to resume normal operations "as soon as possible".
Both the British and French governments have come under fire from Helen Deeble, the chief executive of P&O Ferries, which employs thousands of people on both sides of the Channel.
She says "this damaging and dangerous industrial action" is putting jobs at risk.
The Channel chaos has come amid the migrant crisis in Calais, where more than 3,000 people displaced from countries such as Syria, Eritrea and Afghanistan have set up camp.
Migrants have tried to take advantage of the slow-moving traffic and queuing trucks by attempting to board vehicles bound for the UK.
Copyright Press Association 2015