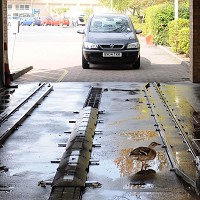 Nearly half of motorists take their vehicle to an automatic car wash or professional valet service rather than cleaning it themselves, according to a new survey.
Just one in 10 car owners wash their own vehicles at least once a week, compared to the 22.2% who frequently take their car to an automatic car wash and the 22.7% who regularly go to a professional valet or hand clean service.
Despite owners using a variety of different ways to keep their wheels clean, they are no longer washing their cars once a week, instead generally getting out the shampoo and bucket every month.
Those who do not get their cars washed at home take their vehicles for a clean once every three months on average.
RAC spokesman Simon Williams said: "It's interesting to hear the Sunday morning tradition of cleaning the car is disappearing, possibly along with the Sunday afternoon drive.
"This weekend, however, may be an exception as millions of cars are no doubt still covered with red Sahara desert dust from the strange weather conditions we have experienced this week. This should provide motivation enough to get the hose andcleaning products out and give the car a good spring makeover."
Copyright Press Association 2014