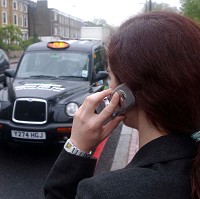 London taxi drivers find an average of eight mobile phones left behind by customers in their cars every year, according to a survey.
But perhaps more alarmingly, about half of the phones are not protected by any kind of security pin code, meaning people's private and personal data can be easily accessed.
More than two-thirds (68%) of taxi drivers questioned in the survey say they would not look for any private details on a phone left in their car.
However, Mark James, a specialist at internet security firm ESET, which carried out the survey, says it is important for people to take steps to safeguard the information stored on their phones because not everyone will be so honest.
He says people need to ask themselves the question 'could any information stored on my phone put me in a compromising position in my work life or personal life?'.
Mobile phones are not the only things taxi drivers find in the back of their cabs. The questionnaire found that other items left on the back seat range from stocks and bonds worth £100,000 and a briefcase belonging to someone from Nato to 400 packets of jelly, a dog and an inflatable banana.
Some 300 drivers of London black cabs were questioned in the survey.
Copyright Press Association 2014