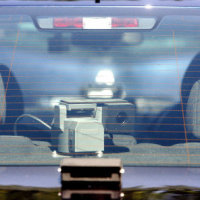 More than 850 million pieces of driver number plate data are being stored on a police database, Scottish Liberal Democrat politicians claim.
The party says this "gargantuan" and "disturbing" amount is unnecessary after finding that 227 cameras logged 852,507,524 records on largely "innocent" drivers over seven years.
The 227 fixed or mobile automatic number plate recognition (ANPR) cameras provide information which is stored on a central database.
Alison McInnes, justice spokeswoman for the party, says such cameras are handy for identifying uninsured drivers and finding stolen vehicles. But she says that no figures have been forthcoming to demonstrate their effectiveness.
Ms McInnes claims that it is unnecessary to keep such driver snapshots on record for years.
But Police Scotland's Jim Leslie says the cameras are useful tools in combating terrorists, organised groups and motoring crimes.
He says the amount of criminal prosecutions secured by this technology has been "significant".
Superintendent Leslie says Police Scotland only have access to the data for 90 days.
Any longer and an officer of at least superintendent rank has to give permission in special cases, he added.
Scottish Lib Dems would protect people from CCTV image and data misuse, Ms McInnes says.
A spokeswoman for the SNP says that the party will go on backing Police Scotland to make sure that the country is safe.
The discovery comes only 18 months after the RAC said that drivers had "significant" concerns over the switch from . This followed a Telegraph report which claimed that 4% of penalty notices under the new system are unwarranted.
RAC spokesman Pete Williams said at the time: "Motorists clearly have some significant worries about the demise of the paper tax disc with two-thirds of drivers believing it could lead to an increase in non-payment.
"But this suggestion that one in twenty-five motorists could face an unwarranted penalty notice is further cause for concern and one which needs to be addressed rapidly.
"The DVLA has reassured us that motorists will benefit from these changes but it seems that there is still some convincing to be done."
Copyright Press Association 2016. Motoring News articles do not reflect the RAC's views unless clearly stated.