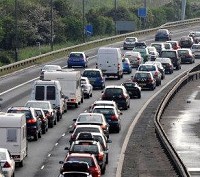 Commuters in Manchester are being urged to plan their journeys carefully on Wednesday as both City and United are playing homes games.
Police say measures have been put in place to deal with the extra traffic, but have warned fans to give themselves extra time to make their way to the stadiums.
While the teams normally play on separate days of the week, Manchester City play Fulham at Eastlands and Manchester United play Wolverhampton Wanderers at Old Trafford on Wednesday, with both kick-offs scheduled for 8pm.
Assistant Chief Constable Ian Hopkins said: "We do have plans in place to police both games and our main aim is to ensure they are enjoyable for all the fans.
"It is not very common for both teams to be playing at home on the same night and there will of course be more traffic on the road as a result."
The have also warned that extra officers will be on duty to deal with any potential troublemakers.
Copyright © Press Association 2009