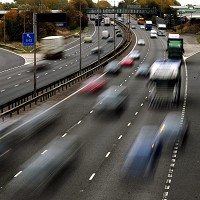 The majority of motorists underestimate how long it takes for a car travelling at 70mph to stop, latest research suggests.
The RAC quizzed drivers about the Highway Code's official stopping distances. Its findings reveal that only 16% of those questioned know that the stopping distance for a car travelling at 70mph is 96 metres, which the RAC defines as 24 car lengths.
Some 11% think it is 68 metres (17 car lengths), around a third (32%) say it is 40 metres (10 car lengths) and 18% of motorists are under the impression the stopping distance is no more than two car lengths.
Knowledge of stopping distances can help drivers avoid potential accidents, which are likely to raise car insurance premiums and could have far more serious consequences.
Some have commented, however, that the Highway Code should be updated as improved car technology means that vehicles are now much quicker to react to the brakes being put on than they were in the 1960s when the Highway Code figures were set.
The Institute of Advanced Motorists' chief executive, Simon Best, says more awareness needs to be raised among drivers who need to make judgement calls every day about how long it takes for cars to stop safely while travelling at speed.
The DVSA says it will consider these issues during its regular refresh of theory test questions and learning materials.
Copyright Press Association 2014