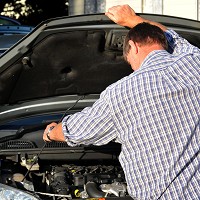 Drivers should think twice about asking friends, neighbours or family members to do small repair or maintenance jobs on their cars as the consequences can by costly, according to a new report.
The study by Halfords shows motorists and residents pay as much as £300 million every year for experts to put right what well-meaning individuals get wrong.
Among the problems requiring professional help are charging car batteries and using the wrong grade of oil. In 45% of cases the bill to rectify such mistakes amounts to more than £100, Halfords found.
Botched jobs carried out by friends often leave people wishing they had said 'thanks but no thanks', Halfords' Dave Poulter said.
One in 10 drivers find they have the wrong motor oil in their engines or water without anti-freeze has been put in their radiators, making breakdowns more likely.
Problems with wrongly connected battery leads and too much water in screenwash, reducing its ability to clean windscreens and keep them frost free in winter, are also common.
Copyright Press Association 2013