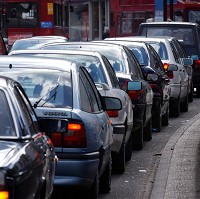 Congestion in central London is certain to increase massively from the middle of July due to the Olympic Games and drivers should aim to avoid key Games routes, a transport body has warned.
The Olympic Route Network (ORN) is a 109-mile network of roads which will link up Games venues from July 25, including 30 miles of traffic lanes which are reserved solely for people connected to London 2012.
Transport for London has advised motorists to completely avoid using the ORN due to the "significant numbers" of athletes, media, officials and sponsors expected to arrive in the capital for the Olympics.
New road markings are being introduced and more than 1,000 traffic signals will be altered from July 1, with motorists who need to drive during the Games being well-advised to make sure theircar insurance andvehicle breakdown cover is current, giving them one less thing to worry about in what is sure to be a stressful period.
From the launch date of July 25, the ORN and Games lanes will be enforced between 6am and midnight. It will end two days after the Games come to a conclusion, and will not run between the Olympics and the Paralympics, which start on August 29.
Copyright Press Association 2012