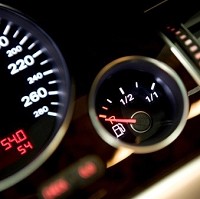 With many drivers having to deal with the prospect of using their breakdown cover in the midst of the fuel-panic a few months ago you would expect it to be at the forefront of more peoples minds.
However, despite fuel gauges and warning lights there to ensure we know when to top up many still ignore these signs and run the risk of having to call out thebreakdown cover services if they run out of fuel.
The main reason given for ignoring the signs is to put off spending money, according to research by website MyVoucherCodes.co.uk.
The study, which is currently ongoing, has polled around 1,500 UK drivers about their spending habits and financial stability to come up with the results.
The participants were asked "Do you often let fuel run so low that your petrol light comes on?" and over two thirds of people admitted to doing so with a further 61% of these saying that they ignore it as long as possible.
Around one fifth said that it depended where they were travelling to and 10% said they dealt with the matter within a couple of days.
Copyright Press Association 2012