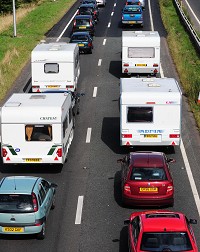 The Highways Agency is advising families to check travel conditions and plan their route before heading off on trips during the half-term break.
A host of journey planning tools have been provided by the agency to help people check traffic status on England's motorways and major A roads before they set out.
Major routes are expected to be busier than usual at the start of the autumn half-term break on Friday evening, as well as the other days of the holiday week.
Head of the Highways Agency's National Traffic Control Centre, Steve Crosthwaite, said: "Our data shows we can expect more traffic on the motorways and major A roads we manage throughout the half-term week.
"In contrast to the main summer getaway, the pressure in October is spread around the country more and does not focus so much on a few key holiday routes. Last year we also saw more evidence of families making day trips mid-week."
The half-term week last year saw the total number of vehicles go up by 4.2%, with an increase of 13% - from 328,700 to 371,500 vehicles per hour - during the busiest hours.
Copyright © Press Association 2009