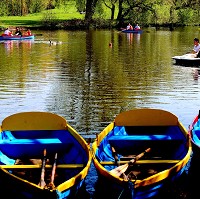 Conditions on the roads are set to improve next week as some cold and wet weather will be replaced by temperatures of up to 26C in places.
The MeteoGroup predicts a sunny start to September, but warned that the warm spell will not be "too long lasting".
MeteoGroup forecaster Nick Prebble said conditions will improve from Sunday across most of Britain as an "area of high pressure" moves in from the South West before becoming "stationary" over the country.
There might be scattered showers, he said, but temperatures will rise to above-average figures across the whole of the UK, with G reater London and the South East seeing up to 25C or 26C from around midweek.
Mr Prebble said even northern Scotland could bask in unseasonably warm weather next week as temperatures are expected to reach up to 20C - which he said was "good" for the region at that time of year.
Copyright Press Association 2014