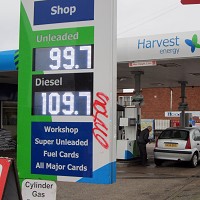 The Government has failed to keep its promise to end the so-called war on motorists.
That is according to the Alliance of British Drivers (ABD). It says the Coalition has failed to listen to the wishes of drivers and concerns of vested interest lobby groups, instead singing from its own hymn sheet.
With the general election just around the corner, the group also claims more than half of voters in the UK do not trust any political party to represent them as drivers over the course of the next five years.
Fuel prices
RAC spokesperson Simon Williams says: "We would like to see the needs of motorists high on the agenda for the next Government, whoever it is in No 10 following May 7, and top of that list of priorities is what we're paying for fuel.
" Fuel prices at the pump are still relatively low compared to recent years, but we are currently paying fuel duty at nearly 58p a litre, and VAT on top of that, creating a tax 'double whammy' for the motorist or around 67% in every litre.
"We believe there is a real opportunity for the next Government to demonstrate their commitment to supporting the motorist by ensuring the level of duty does not increase further, and to make a pledge to freeze fuel duty in the run up to the election."
Anger
The ABD takes issue with the Government for failing to increase the 70mph motorway speed limit, while at the same time continuing what it calls at unnecessary reduction in speed limits on other roads.
It also points to the proliferation of speed cameras, plus states there has been no real progress or effort made to improve the general condition of roads, as issues like potholes continue to cause misery for motorists nationwide.
Spokesman Nigel Humphries believes political parties could regret not doing more for the nation's 30 million licence holders once the election is over, especially with the prospect of another close result on the cards.
He says the car is essential to the economy and the lives of millions of people, creating opportunity and increasing quality of life.
Lack of trust
ABD research reveals only 15% of drivers trust the Conservative Party to deliver them a fair deal on motoring.
While this figure is low, it is much lower for the Labour Party and the Liberal Democrats, at 2% and 1.5% respectively, highlighting a severe lack of faith among the motoring community.
Lots of motorists are unhappy with what they have seen over the last five years since David Cameron became Prime Minster, plus a large number are seemingly unimpressed by policies of the other two main parties.
The findings suggest that UKIP is the political party that is deemed to be most trustworthy by drivers, with 28% admitting they would trust it to represent their concerns if it won power in the general election on May 7.
Copyright Press Association 2015