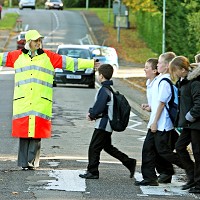 A charity has warned that Britain is creating a generation of 'car seat kids' after figures revealed the amount of children hitching a ride to school off mum and dad has doubled in the past 20 years.
With national Walk to School Week currently underway and running to May 25, Living Streets is calling for people to ditch the school run, leave the car at home and try walking instead.
A survey by the Department of Transport National Travel found that less than half (47%) of all primary-school pupils walk to school, while only 36% of secondary school kids do so.
Tony Armstrong, chief executive of Living Streets, said: "Walking to school is a brilliant way to get exercise and some fresh air into a child's day.
"When children are bundled from front door to car door, they miss out on the opportunity to socialise with friends, get to know their community, and burn off some energy before getting their heads down in the books."
Having kids walk to school can also benefit parents by saving on fuel costs, as well as reducing congestion around the school gate.
Copyright Press Association 2012