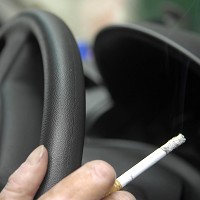 The Welsh Assembly is to vote on banning smoking in cars where children are present.
If passed, it would become illegal for anyone to light up in a vehicle carrying someone under the age of 18.
MPs in England voted in favour of a ban earlier this year, when a majority of 342 to 74 backed the health initiative.
Wales' health minister Mark Drakeford hopes AMs will follow suit and pass the new legislation. He says it is needed to help children avoid the toxic chemicals contained in second-hand smoke when travelling in cars.
While many people believe opening the car window will help disperse smoke, in reality it actually just blows it back in. This causes a real and substantial threat to the health of young passengers.
Police would be given powers to enforce the regulations - which would come into effect in October - in conjunction with their wider road safety duties. Breaking the rules could result in a £50 fine or even a court appearance.
The Labour-controlled Welsh Government believes legislation is necessary after its public health campaign - Fresh Start Wales - failed to produce the positive results officials had initially hoped for.
Despite a fall in the number of children exposed to second-hand smoke in cars during the campaign, there are still a significant number of adults who continue to smoke in vehicles when children are present.
Some 17% of children from poorer families reported that smoking was allowed in their car, compared to 7% of those from more affluent families.
Legislation banning smoking in enclosed public places was introduced in Wales in 2007. But the law only covers public and work vehicles, not private vehicles, despite calls to extend the ban at the time.
But ministers are confident that the Welsh Assembly will pass the ban.
Mr Drakeford adds that children often do not have a choice over whether or not they travel in cars and so may not feel able to ask an adult to stop smoking.
But all that could soon change with a yes vote.
Copyright Press Association 2015