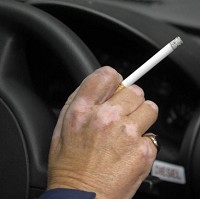 Motorists in Wales who light up behind the wheel with children in their vehicle could soon face on-the-spot fines.
The Welsh government has begun consulting on plans to change the law which, if implemented, would see offenders issued with £50 penalties.
A spokesman for the Welsh government says the proposals are aimed at protecting people under the age of 18 from the dangers of breathing in second-hand smoke while travelling in private vehicles.
Carwyn Jones, the Welsh First Minister says while some smoking drivers think that opening a window will disperse their smoke, doing so just blows it back into the car, leaving young passengers unable to escape the toxins it contains.
Mark Drakeford, Wales' health minister, believes changing the law in Wales would benefit the health of young people by protecting them from the hazards associated with secondary smoking. He says it is hoped the ban would vastly reduce the number of health problems suffered by children.
The consultation period will last six weeks.
Copyright Press Association 2014