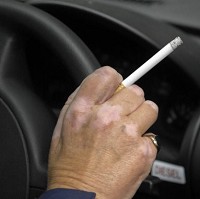 Welsh policymakers have followed England's lead and made in-car smoking illegal when a child is present.
Tuesday's landmark ruling in the Welsh Assembly means that motorists breaking this new law could face a fine of £50 or go before magistrates.
England MPs voted for similar legislation to outlaw in-vehicle smoking in February by 342 votes to 72.
The Labour-run Welsh Government's vote was even more decisive by 46 votes against one. Both bans will become law in October.
Opponents fear that the new ruling could open the door for smokers being banned from using cigarettes at home.
Mark Drakeford, the Senedd's Health Minister, said the evidence was "compelling" against risks from second-hand smoke. He said the latest legislation would help to safeguard children's health.
Mr Drakeford refuted arguments that that the problem could be solved simply by smokers opening their car windows.
This just helps blow the smoke back in, he countered, causing a "substantial" and "real" threat to the health of minors who have no choice but to travel in toxic chemical-filled cars.
Mr Drakeford said the success of this legislation would be measured not in enforcement actions taken, but by changing attitudes to the practice over the years.
Eight years ago smoking was outlawed among enclosed public spaces in Wales.
This legislation extended to work and public vehicles, but not private ones.
The new law will apply to smokers who have a minimum of one child under 18 years old in the same car.
The Welsh Government's members deemed the new law necessary following failed attempts to get the in-car stop-smoking messages across via public health initiatives.
A Government spokesman said that the campaign had resulted in a decrease in the amount of children being subjected to used smoke within vehicles. But he said the practice still prevails among some adults.
Around one in six (17%) less affluent children are the ones most likely to be subjected to in-car smoke. This compared to roughly one in 14 (7%) of children from more privileged households, he said.
Both children's groups and health bodies welcomed the landmark legislation. They pointed to asthma, cot death, ear difficulties, chest infections and other health damage in-car smoking can inflict upon children.
Copyright Press Association 2015